Hiya friends. Today I have a grab bag post for you. What's a grab bag post? Well, it's just where I have a handful of things I wanna share/talk about/post so I combine it all into one big ol' post. I've found myself doing a few of these kinds of posts lately, so I thought perhaps, I'd slap a catchy name on them and call it a "thing." With a grab bag post you never know what is going to pop out at you, although I can pretty much guarantee you'll never get anything that even compares to what this little lady got for her third birthday.
I'll just give you all a minute to go ahead a wipe the tears from your eyes since you're definitely tearing up from this GIF, unless you have no soul then... I guess you're good.
I created this little planner for myself to plan and organize blog posts, etc. Then I figured, hey, I might not be the only one who could use this! I know that our lives are all digital now, but I just can't plan and organize the same without pencil and paper. I use the white "post" section to pencil in scheduled posts for that day and the other space to jot down any blog to-do's I have that day. So, I have it for you to download for free. They are indented to accommodate hole punches to fit into a binder or planner the way I showed (open spread.)
Here is the left page
and
here is the right page.
Grab Bag Item 2:

My life recently, according to my iphone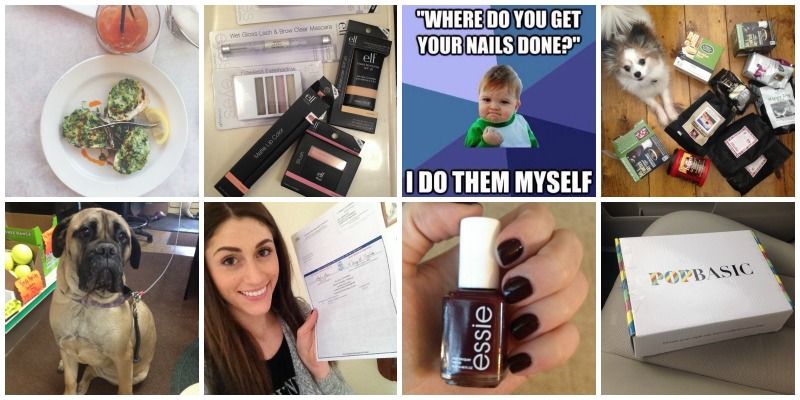 [ 1. ]
Had my first oysters and, granted they were Rockefeller, I ate and enjoyed them. I think I'm ready for the real thing! [
2.
] Little E.L.F makeup haul all in the name of blog research. In case you missed my
hits and misses from E.L.F click here.
The best thing about E.L.F hauls is if you don't love a product, it's not a big deal, considering this entire haul cost me about $10. [
3. ]
I just love this meme, haha! Seriously my life. [
4.
] Austin is concerned about my coffee addiction. I don't know if I have enough.... #IHaveAProblem [
5. ]
JUST.LOOK.AT.THIS.FACE! I met this sweet Bull Mastiff, Luna, at the pet store the other day and it took all of my moral compass not to steal her away. I want one, guysssss. [
6.
] Oh, just a happy Kallie because her renewed teaching certificate finally came in the mail. Nothing like moving to a new state and having to take six new state exams to be certified again! [
7. ]
I know Essie released their Spring 2014 collection last week, but it's still freezing in my neck of the woods so I've been sticking to the Winter 2013 collection. This is "Shearling Darling" [
8. ]
Little PopBasic box riding home with me, can't wait to share this cool company with you guys (and maybe a little giveaway!)
Grab Bag Item 3:

#bfcmugswap
Holy guacamole some of you have started to receive your mugs from the mug swap and I'm having too much flipping fun seeing them! I'd really love if you post them on instagram with the hashtag #bfcmugswap so that I can see them because it fills my little heart with joy - and so that all other participants can see them, too!
Meet
Ashley
, my exclusive sponsor for the month of March.
Ashley
blogs over at
Married to the Game
and is the fiance of a professional hockey player. She blogs about traveling around following her soon-to-be-husband's work as well as other aspects of life like fitness and food. Her and I have already bonded over our love for hot sauce and wasabi and our inability to keep our voices to a reasonable level. I'm so happy to have her here for the month! Make sure to pop over to
Married to the Game
and say "hi!"
Have you seen the new Essie 2014 Spring Collection? Favorite color?
My two favorites are "Style Hunter" and "Romper Room" with "Truth of Flare" in a close second.
Do you guys like to use paper planners to organize, too, like me? Or have you moved to all digital?